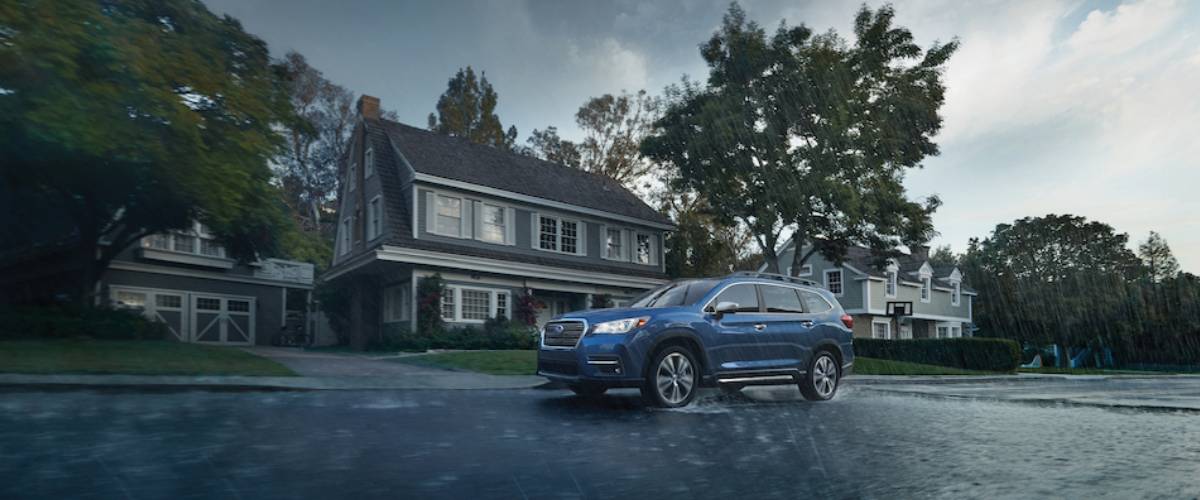 New Subaru Ascent vs Toyota Highlander
How Does the 2021 Subaru Ascent Compare to the Toyota Highlander?
When it comes to SUVs, space can be key. While many Bartlett and Cordova drivers want the benefits of high performance, they also need the perks of a high capacity model with the seating to carry a crowd.
It should be no surprise then, that so many drivers are flocking to new models like the 2021 Subaru Ascent. While its rugged disposition makes it the perfect companion for weekend adventures, its comfortable interior and eight-seat peak seating capacity make it a contender for everyday driving too.
The 2021 Ascent isn't the only high capacity mid-sized SUV out there, though. Other models, like the Toyota Highlander, can offer similar packages. The big question, of course, is which one offers more?
The 2020 Subaru Ascent
Does standard all-wheel-drive sound good to you? How about the Subaru EyeSight safety suite or a media suite with Apple CarPlay/Android Auto? Maybe you're the type that would appreciate seating for eight? All of that and more is waiting in the 2020 Subaru Ascent. Built to offer a sturdy, competitive and versatile SUV experience, the Ascent has carved a place for itself as one of the most valuable models in the mid-sized segment.

Performance: 2.4-liter turbocharged flat-4 (260 horsepower, 277 pounds-feet of torque, 21/27 miles per gallon)
Feature Options: Push-Button Start, Built-in Wi-Fi, Built-in Navigation, Starlink Infotainment System, Standard 8-inch Touchscreen, Apple CarPlay, Android Auto, Harman Kardon Audio, Three-Zone Climate Control, Keyless Entry, Heated Side Mirrors
Safety Features: Lane-Departure Warnings, Blind-Spot Detection, Reverse Automatic Braking, Automatic High Beams, Pre-Collision Emergency Braking, Adaptive Cruise Control
Starting Price: Around $32,000
The 2020 Toyota Highlander
A longtime mid-sized favorite, the Toyota Highlander offers seating for up to eight people. Its value as a dependable passenger hauler is only accented by Toyota Safety Sense, one of the market's most valuable standard safety suites. Drivers will doubtless appreciate its hybrid engine option too.
Performance: 3.5-liter V6 (295 horsepower, 263 pounds-feet of torque, 21/29 miles per gallon), 2.5-iter inline-4 w/ electric motor (186 horsepower, 175 pounds-feet of torque, 36/35 miles per gallon)
Feature Options: Tri-Zone Climate Control, Apple CarPlay, Android Auto, Heated Seating, Ventilated Seating, Built-in Navigation, Keyless Entry, HD Radio, JBL Audio
Safety Features: Adaptive Cruise Control, Lane-Departure Warnings, Forward Collision Warnings, Automatic Emergency Braking
Starting Price: Around $35,000



Why Should I Drive Home in the New Subaru Ascent?

The Toyota Highlander is a popular SUV for a reason, it's good at what it does! Its standard safety suite, in particular, provides a lot of value. However, the Subaru Ascent can provide everything the Highlander does for less money. You also won't get standard all-wheel-drive on the Highlander. You really can't underestimate how much that feature is worth.

Don't take our word for it though! Come visit Jim Keras Subaru in Memphis and take a test drive. We have new Subaru Ascent models available and can talk to you about financing and more.