Subaru Ascent vs Mazda CX-9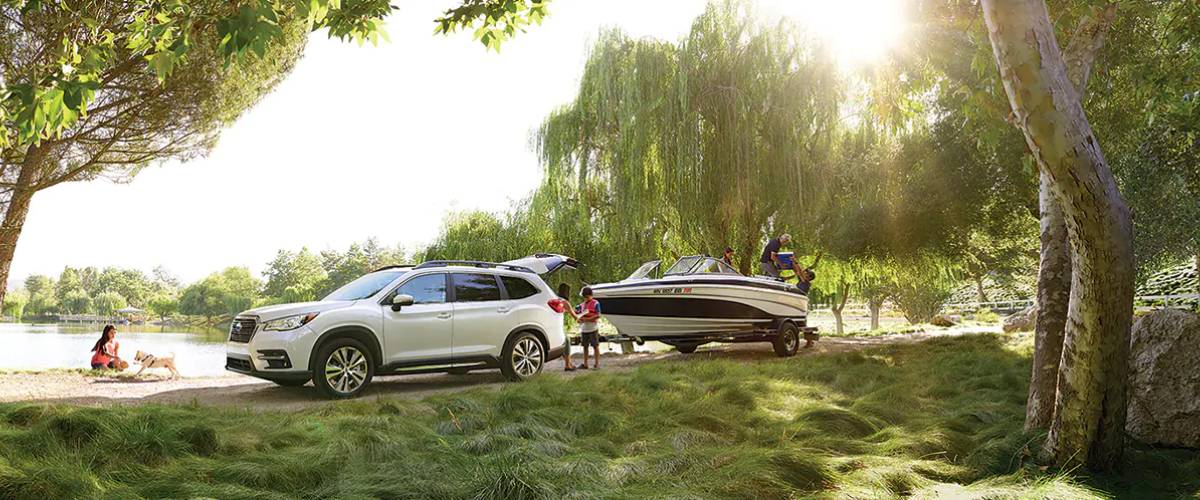 How Does the 2021 Subaru Ascent Compare to the New Mazda CX-9?
When you're looking for a new SUV, you shouldn't be surprised if someone recommends a Subaru.
New models like the 2021 Subaru Ascent offer a valuable mixture of seating, features, and high-performance driving options. Its sturdy and versatile designed make it a winner for the carpool, family road trips, weekend camping adventures, and more.
If you want a better idea of how much it has to offer to Bartlett and Cordova drivers, just take a look at how the Subaru Ascent compares to a competitor like the Mazda CX-9.

The 2021 Subaru Ascent
With seating for up to eight, solid standard performance output, standard all-wheel-drive, and 19 cupholders, the Subaru Ascent offers a ton of value right out of the gate. What makes it really special, however, are all of the extras it offers beyond its basics. From safety to media, there are advanced options available to satisfy every level of need.
Performance: 2.4-liter turbocharged flat-4 (260 horsepower, 277 pounds-feet of torque, 21/27 miles per gallon)
Feature Options: Starlink Infotainment System, Standard 8-inch Touchscreen, Apple CarPlay, Android Auto, Three-Zone Climate Control, Keyless Entry, Heated Side Mirrors, Push-Button Start, Built-in Wi-Fi, Built-in Navigation, Harman Kardon Audio
Safety Features: Blind-Spot Detection, Reverse Automatic Braking, Automatic High Beams, Pre-Collision Emergency Braking, Adaptive Cruise Control, Lane-Departure Warnings
Starting Price: Around $32,000

The 2021 Mazda CX-9
The Mazda CX-9's seating capacity peaks at seven, but it offers some other perks. Its athletic design is matched by sporty driving manners that many would expect from something smaller. The CX-9 also offers several premium amenities that help it feel in line with a luxury model.
Performance: 2.5-liter turbocharged inline-4 (227 horsepower, 310 pounds-feet of torque, 22/28 miles per gallon
Feature Options: 10.25-in dashboard display, Apple CarPlay, Android Auto, Three Zone Climate Control, Built-In Navigation, Heated Seating, Ventilated Seating, All-Wheel Drive, Leather Trim
Safety Features: Smart Brake Support, Rearview Camera, Blind-Spot Monitoring, Rear Cross-Traffic Alert
Starting Price: Around $35,060
Why Should I Go Home in a New Subaru Ascent?
The Mazda CX-9 is a great SUV with several fine points, but it lacks the overall value in the Subaru Ascent. With the Ascent, you get rugged performance, more seating, and a wider array of available features. The Ascent's active safety technology is also based on the Subaru EyeSight technology suite, one of the best available in the current market.
Would you like to know more? Get in touch with the sales team at Jim Keras Subaru in Memphis, TN. We'd be happy to answer your questions and help you find the new Subaru that meets your needs. We can connect you to affordable financing and set you up with a test drive.