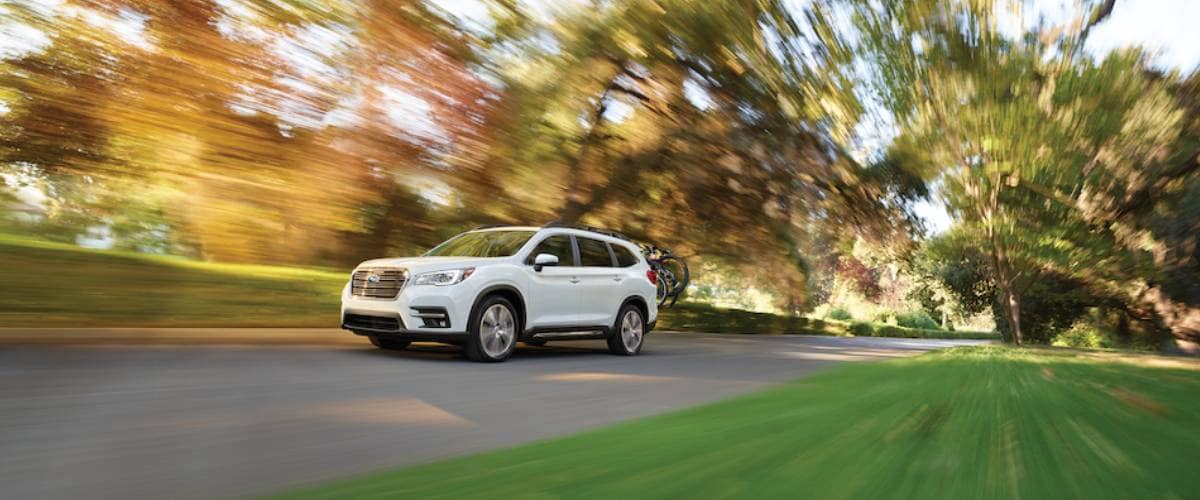 Subaru Ascent vs Honda Pilot
How Does the 2021 Subaru Ascent Compare to the New Honda Pilot?
For many West Memphis, Cordova, and Bartlett area drivers, mid-sized is the right size when it comes to SUVs. New models like the 2021 Subaru Ascent show exactly why that is.
With its big interior, powerful base engine, robust features and standard all-wheel-drive, the 2021 Ascent delivers one of the most impressive mid-sized experiences the SUV segment has to offer.
It's not the only quality mid-sized SUV out there though. New models like the Honda Pilot also offer popular packages that drivers love. Which one is right for you? Let's take a look.

The 2021 Subaru Ascent
Subaru has a reputation for great SUVs, and the Subaru Ascent is no exception. The 2021 model continues beloved traditions like standard all-wheel-drive. It also offers seating for up to eight, Subaru's award-winning EyeSight safety technology, and a bevy of feature and amenities designed to impress.
Performance: 2.4-liter turbocharged flat-4 (260 horsepower, 277 pounds-feet of torque, 21/27 miles per gallon).
Feature Options: Standard 8-inch Touchscreen, Apple CarPlay, Android Auto, Harman Kardon Audio, Push-Button Start, Built-in     Wi-Fi, Built-in Navigation, Starlink Infotainment System, Three-Zone Climate Control, Keyless Entry, and Heated Side Mirrors.
Safety Features: Automatic High Beams, Pre-Collision Emergency Braking, Adaptive Cruise Control, Lane-Departure Warnings, Blind-Spot Detection, as well as Reverse Automatic Braking.
Starting Price: Around $32,000

The 2021 Honda Pilot
Honda is one of the most trusted brands on the road, and the new Honda Pilot is a great example of why. While its design might be aging compared to many competitors, it still provides a worthwhile experience built on a foundation of comfort, safety, and value.
Performance: 3.5-liter V6 (280 horsepower, 262 pounds-feet of torque, 19/27 miles per gallon
Feature Options: 5-inch Infotainment Display, Apple CarPlay, Android Auto, Heated Side Mirrors, Three-Zone Automatic Climate Control, Heated Seating, Built-in Wi-Fi, Built-in Navigation
Safety Features: Adaptive Cruise Control, Forward-Collision Warnings, Automatic Emergency Braking, Lane-Departure Warnings, Lane-Keeping Assist
Starting Price: Around $32,500
Why Should I Choose the 2021 Subaru Ascent?
Both the Ascent and the Pilot can seat eight, while offering a solid selection of featured and performance options. For all the Pilot does well, however, it doesn't offer the same rugged manners you'd get with the Subaru Ascent. The Ascent, overall, offers a more versatile driving package that can do more in a more diverse range of terrains and situations at a slightly lower starting price.
To learn more, contact the sales team at Jim Keras Subaru in Memphis. We have new inventory models you can test drive and a finance center to tackle all your loan and leasing needs.